The first and only company in the body repair industry with your complete Aluminum repair solutions.
Presents
A

LUMA

R

OOM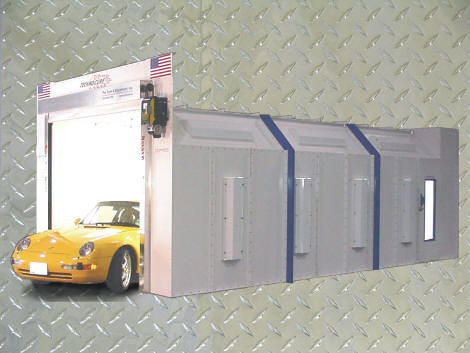 This high tech room seals you off from the contaminants in your shop that can ruin your repair. The ALUMAROOM is a well lit, well ventilated, sealed work area that allows you to store all your tools in an orderly fashion, separate from your steel working tools.
If ALUMAROOM, is not for you we can do an area cordoned off with Shop Curtains.

If you work with Aluminum or need that OEM approval to work on their cars, Then you need ALUMAROOM.

Still not sure if you need an Aluminum repair Area like the ALUMAROOM. You say that you don't work on Aluminum enough.
More Aluminum is coming in more new vehicles then ever. Wouldn't you like to be ahead of the game?

Find out more about the Automotive Industry and this mystery metal with a few articles from the repair industry's leading publications.
How The

A

LUMA

R

OOM

Works:
The Technocure ALUMAROOM draws in air from the shop through the filters in the ceiling at the front of the room, across the inside cabin to the back wall and is filtered once again and pulled through the exhaust chamber by the fan and put back into the shop. It's that simple! This keeps the air and heat in the shop saving you money, and prevents iron contamination from the rest of the shop.
(see ALUMAROOM Drawing below)
Specifications:
Booth Shell
25' 4" long x 14' 8" wide x 11' 2" high O.D. prefabricated 18 gauge galvanized steel panels with 10ga. structural angle used as reinforcement. Pre punched nut & bolt construction with floor channels to secure the booth to the floor. (Larger or custom sizes are available).
Entrance Doors
10' wide x 9' high Super Seal Roll Door with Electric Door Motor & Remote Control.
Personnel Door
30" wide x 84" high personnel access door with tempered glass window, pre-hung in heavy gauge galvanized steel frame for easy installation and secured with a Brixon™ latch. (Additional doors can be added as space allows).
Lighting
Bright full booth illumination is provided by 12, four tube, 48"-32 watt T8 fluorescent light fixtures by LDPI, Incorporated in the, angled ceiling panels and side walls. Each is sealed behind clear tempered safety glass. All fixtures are UL listed and approved for their intended use and placement. The T-8 light tubes are not furnished with the fixtures. (Additional fixtures can be added as space allows)
Need help on lighting decisions? this article will help: "The right light?"
Filtration System
Intake side:
4 - 20" x 20" AFR-1 Airflow Technology filters are located in the front 3 ceiling panels.
Exhaust side:
4 - 20" x 20" Fiberglass filters are located in the back wall. All filters can be replaced simply.
Fan
One 18 inch, precision balanced with spark resistant aluminum fan blades that can deliver up to 5,000 cu. ft. per minute each @ .5" Static Pressure, with low operating noise level.
Fan Motor
One 1 1/2hp 208-230/480 volt, 3 phase, high efficiency, Open Drip Proof (ODP). (optional single phase available).
Finish
"Porcelain like" Polyurethane and Polyester Premium White Powder Coating.
Options:
| | |
| --- | --- |
| | Add additional light fixtures. |
| | Add an additional personnel door. |
| | Add/delete View Windows in the personnel doors or walls, great for classroom environments. |
| | Drive-through configuration |
| | Galvanized only (no white powder coating) |
| | Size/Configuration Modification. |
Downloads:

ALUMAROOM Drawing 69KB
You'll need Adobe Acrobat Reader to view it. If you don't have it already, get it here for free.

Booth complies with all NEC, OSHA and NFPA regulations.
All hardware, filters and sealants needed for installation are included. Some electrical components are to be supplied by others.

Information on a specific product? Go to the Request Form.

Technical problems? Contact the Webmaster about this page.

This page last updated on Thursday, August 04, 2022 08:14 AM .