AIR FILTERS
We have the filters you need, no matter whose booth or system you have we have a filter that fits right for you!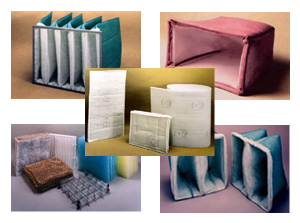 We Have Filters That Fit the Following Spraybooths, Prep Stations & Systems: ABS, AEN Clean Shop, Aero-Cure, AFC, Airo Max, Ameri-Cure, Binks, Blowtherm, CMC, CWN, DeVilbiss, Diamond, Eagle, Europea, Furnocolor, Future-Cure, Garmat, IAF, JBI, J-MAR, Jong Air, Kayco, KWB, LUTRO, Nova Verta, OLT, Omia, Optima, PBR, Pivab, Protectaire, Saico, Saima, SBS, Spray Bake, Technocure, Thermal Draft, Thermomeccanica, Unicure, USI, Viking, Welbilt, and many others.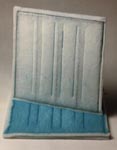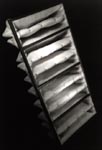 THE "BALANCE"
Filtration for your paint booth, like any component of a complex piece of repair equipment, must be carefully engineered and selected to "balance" several key operating criteria. Without this balance, your booth will perform poorly and your efficiency and costs will be less than competitive.
FILTER EFFICIENCY, AIR FLOW RESTRICTION, AND DUST HOLDING CAPACITY ARE THE CRITERIA FOR ESTABLISHING PROPER BALANCE
FILTER EFFICIENCY
Most advanced booths incorporate three or more stages of filtration, pre-filters, ceiling filters and exhaust filters. The desirable efficiency at each stage differs, and varies within a limited range, dependent upon which size of particles are to be stopped. Filters must be engineered within this range to produce optimal results at each successive stage, (e.g. pre-filter, ceiling filter and exhaust filter stages), and as a complete "operating system." Efficiencies which are too high at any stage will result in air flow restriction, shorter filter life and unnecessary paint defects. Efficiencies which are too low will cause excessive defects and premature filter changes. Appropriate filtration efficiency at each filtration stage in the spray booth is critical to proper operation and for maximum operating economy.
* AIRFLOW RESTRICTION
Is also known as "pressure drop," or "+P." Each filtration stage in the booth has an ideal and narrow range. At some stages, (such as for a ceiling filter), a relatively high "+P" is actually desirable. At others, (such as pre-filters and exhaust filters), a relatively low "+P" will yield desirable results. An inappropriate "+P at any stage will dramatically effect paint transfer efficiencies, air velocity, surface flash-off contamination and numerous other booth performance elements.
Correct "+P." at each stage of the spray booth. is the second critical factor to optimal booth operation and efficiency.
DUST HOLDING CAPACITY
This filtration characteristic will primarily determine the life expectancy of a filter, as well as it's economy of operation. As a filter "loads up" dirt, it inevitably presents increased airflow resistance ("+P"), to the spray booth fan(s). It is important therefore, (for the life of both the filter, as well as, the booth fans), that a filter have a combination of the highest dust holding, along with the slowest build-up of resistance ("+-P"), as possible.

• Home •
What's New • Paint Booths • Prep Stations • Paint Mix Rooms • Air Make-up Systems • Air Filters • Shop Curtains • Welding Blankets • Frame Benches • Floor Anchors • Pulling Accessories • Super Seal Roll Door •

This page last updated on Thursday, August 04, 2022 08:14 AM .